Sheffield United v Arsenal: Premier League – live!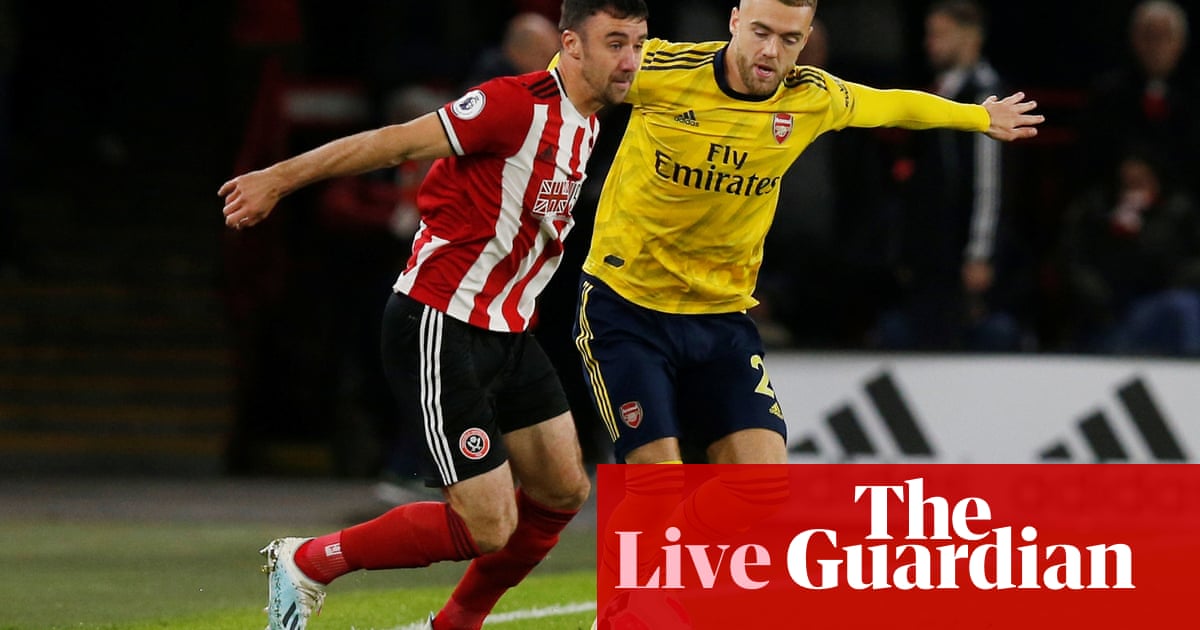 3 min: It's played short by Norwood but they rush it a bit and nothing results straightaway, although they do eventually earn another flag kick that Luiz heads away.
2 min: Guendouzi checks O'Connell and concedes a foul, but Mike Dean keeps his cards tucked away. The Blades then win the game's first corner …
They shoot from left to right.
The teams are out on the pitch and preparing to start! It's a crackling atmosphere up there.
JR in Illinois fumes: "It's not 'Where's Ozil?' or 'Where's Torreira?' the real question is 'Where's Tierney?' He's way better than Kolasinac. Why's he on the bench? Emery doesn't know what in the effing hell he's doing!"
I suspect Tierney will be first choice in that position within a fortnight.
Admir Pajic writes: "The goalkeeping cameo wasn't the last bit of Phil Jagielka's heroics against Arsenal. Last season, he started for Everton only because Michael Keane, who had been named in the starting line-up, had to sit that one out due illness. Jagielka took the chance and scored the only goal in a 1-0 victory for Toffees.
"As an Arsenal fan, I can't help myself thinking that both we've been riding our luck this season and that we could've easily been closer to Liverpool than we are now. We have enough firepower to Ferguson our way through the teams between 11th and 20th without fuss and our defence should be more reliable against top half teams. Unfortunately, Unai Emery thinks Mesut Özil's talent is not unique and that Granit Xhaka's is. Lucas Torreira was at heart of our improved performances in big games last season only to get benched regularly this term. If you ask me, give Arsene Wenger these players to pick from and we'd have a three-horse title race. With Emery, 5th place is more likely."
Emery speaks! But he doesn't really say anything worth transcribing, which isn't really anything new. It'll be a tough game like every match. And Arsenal must impose their gameplan. That'll do. He did make the point that Sheffield United are very mobile, in all fairness.
More on Sheffield United's front line: Lys Mousset, who is just 23 but strikes me already as one of those players who hits 30 before you know it and is still a "prospect" makes his first top flight start for the Blades.
"I don't care about the money he is making. I just want him in the pitch giving Auba some service," says Charles Little of Ozil, not unreasonably.
"When will Emery reveal what his plans are regarding the Øzil enigma? Never has anybody made that much money from so little time on the pitch," sniffs Henrik Nielsen.
For the Blades, star striker Ollie McBurnie makes the bench. He's been struggling with a knee injury.
"Ozil being absent is just a smoke screen to keep us from asking the real question – where is Torreira?" muses Filip Gieldon. "I'm firmly moving into the Emery-out camp based on this decision by the manag … sorry … *head coach*."
Sheff Utd: Henderson, Basham, Egan, O'Connell, Baldock, Lundstram, Norwood, Fleck, Stevens, McGoldrick, Mousset. Subs: Luke Freeman, McBurnie, Sharp, Robinson, Jagielka, Moore, Besic.
Arsenal: Leno, Chambers, Papastathopoulos, Luiz, Kolasinac, Guendouzi, Xhaka, Pepe, Willock, Saka, Aubameyang. Subs: Tierney, Ceballos, Lacazette, Torreira, Holding, Martinez, Martinelli.
Referee: Mike Dean!
Lacazette is back on the bench for Arsenal. Mesut Ozil is nowhere to be seen, once again.
Back in a few minutes with more buildup …
Monday night football! And a tussle that should be bracingly fun, even if I can't promise you a goalkeeping cameo from Phil Jagielka this time around. Nobody quite knows what we're going to get from either of these two sides but, at a snapping and snarling Bramall Lane under the lights, I've a feeling it is going to be good.
But who for, overall? Arsenal are accidentally doing quite well and will return to third if they win, and still four points clear of Crisis Club Tottenham if they draw. Do they convince you? Of course they don't, and they don't convince me either, but they've picked up that winning knack largely because they have a matchwinner – Pierre-Emerick Aubameyang – who is better than almost anyone else in the league. If Unai Emery could just refine the rest of it, who's to say they can't finish the season back in those hallowed Champions League spots?
The Blades might want a hand in that conversation, for tonight at least. Remember how they rattled Liverpool? Arsenal seem eminently rattle-able and there's no doubt Chris Wilder's side play some delightfully intense, intelligent, insistent football whose style and quality still aren't appreciated quite as much as they should be. If they're on it tonight then you'll hear the strains of "Greasy Chip Butty" as far away as Leeds. The more they can take points from games like this, the less likely they are to face a relegation battle. I fancy they won't have to worry about that, when push comes to show.
So let's strap in and enjoy. Send in your emails, tweets and goodness knows what else – and we'll hold each other's hands through the madness.
Original article: https://www.theguardian.com/football/live/2019/oct/21/sheffield-united-v-arsenal-premier-league-live